Companies come in various sizes like big/small, startup or even a listed Fortune 500 one. Here in this post will try providing detail information about Why SEO is essential for E-Commerce Websites? Owning an e-commerce website is essential, and to make it more profitable SEO is required.
Being a 5+ year's veteran of hands-on, real-world experience with SEO and e-commerce, I am sharing my knowledge and giving some tips. These are lessons learnt the hard way from helping real clients with genuine solutions. After thorough analysis of the hard data have these recommendations been arrived at.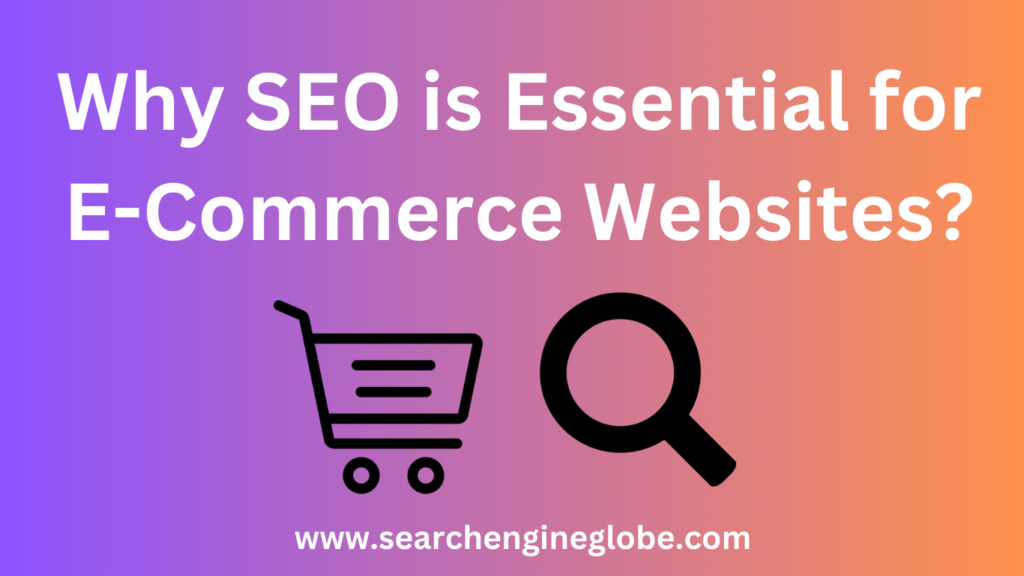 #1 – SEO is most Significant for Helping Customers Find You
Without SEO an E-Commerce website is a dud. Keywords are essential, and that's where SEO helps in maximizing the profitability.
But don't take my word for it. You can use your analytic tool to understand where you are getting traffic, conversions and sales from. You will get to see that organic search is the main source of your revenue. Google is the main vehicle which gives you the highest profit-producing traffic. If it's not, then there is a serious need for re-examining and check for any mistakes.
Technology has taken a giant leap thus influencing and transforming consumer buying behavior. 89% of customers use major search engines like Google, Yahoo, and Bing to inform their purchase decisions, thus making Search an integral part of the decision making process.
Visibility is of utmost importance, and to be on top during your customer's buying journey SEO plays a major role. If ignored, it will result in your business being invisible to the customer, lesser sales and declining growth rate. This intricate situation helps your competitors to cash in on the grave mistake you are committing, and they will race ahead of you.
Let's look at it from another perspective. There is a tremendous growth opportunity with the right potential. Many a times, clients are satisfied with average rankings on Google's organic search results. There actually is a need to understand that the sales and revenue can be higher by improving further.
Once your revenue experiences a 50% drop, it sets the alarm bells ringing, but if revenue is stagnant then nothing as of such happens. You have to understand that here you are actually missing a chance to grow extra 50%. With a superior SEO strategy, this opportunity is very much up for grabs.
#2: SEO is a Cost-Effective Way to Grow Your Bottom Line
My successful clients dedicate quality time and resources to time bound activities that are essential for meeting goals, and also to weed out areas with lesser potential/impact. A tailored cost-effective sales and marketing strategy involves correct analysis of your situation, market and competition, resources and strengths, thus yielding profitable results.
In highly competitive industries and niches, paying for website traffic, buying costly banner ads can run to many dollars per click. By applying effective SEO, you can be less dependent on this traffic. When the business is on the up you can buy ads. On the contrary if the business is on shoe string finance, then SEO helps in steady flow of sales and profit.
Unlike paid search traffic, the traffic from organic search is "free" — no cost per click, no cost per conversion, no cost per impression. No wonder SEO has always been so popular. Quality traffic in large volumes can be attracted without paying huge sums for it directly. (Of course, there are costs associated with hiring and retaining an SEO professional, though this is true for any online marketing discipline.)
SEO helps in optimizing your website for Google (and other search engines) and successful e-commerce companies have prioritized SEO efforts for the same. I have seen small Norwegian local e-commerce websites dominate niches even when there is stiff competition from leading international brands. Remarkably, they do this even with relatively small budgets and limited resources by following simple SEO best practices.
These successful companies have a unique mindset, different approach, proper planning and preparation. Their marketing strategy integrates SEO, combining it with activities like content marketing and social media marketing, guided by an experienced SEO consultant.
Integrating SEO with various marketing activities has a twofold benefit:
• It helps in increasing/ improving the effectiveness and organic search visibility of these marketing activities
• Time Saving and you'll achieve more by spending less on cost per conversion.
#3: SEO's Effects Are Long-Lasting, Making It a Great Investment
Search engine optimization delivers results that are targeted, cost-effective measurable and long-lasting.
SEO doesn't have a shelf life, it runs continuously. With paid advertising, the minute you stop paying, the traffic drops.
The long-term effects of a solid SEO program are clear and it builds upon itself thus growing stronger over time. You can layer upon what you did last year and keep growing, until you own your niche and dominate your market.
Employing effective SEO helps in taking a break or focus on other things for a few weeks or months. Unlike paid advertising, the stream of customers and sales won't stop. When out of cash, you can pause your other ads and still be visible to your audience through organic search results.
SEO for Your E-Commerce Site Is No Longer Optional
SEO has become critical to e-commerce business's financial results, and the big challenge is of making clients understand the importance of Google and how consumers use it daily. Since clients don't always see the "problem", SEO doesn't get the attention and budget it deserves.
This oversight limits their growth. Incorrect analytics data, half-hearted execution of a few SEO activities, wrong plan/strategy results in failure.
You shouldn't fall into the same trap and lose the throne to others. Search engine optimization helps in boosting your e-commerce site's sales and revenue, thus making you a market leader in your industry. And the good news is that your investment in SEO will even pay for itself in a very short time, while its effects will last for many years.