Once your website design is over then you should think about the on-page SEO factors which play the most significant role in SERP.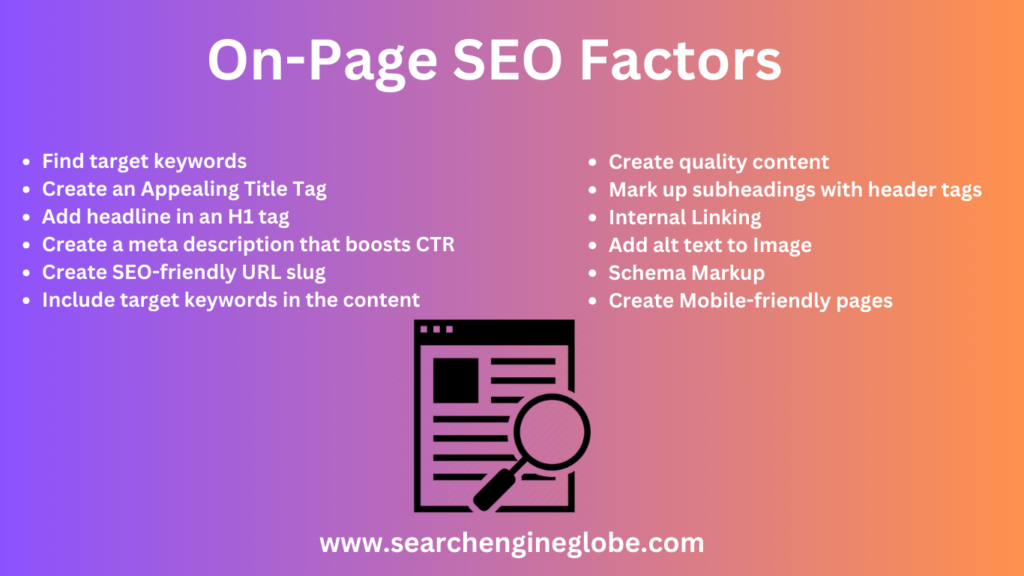 I think now you are thinking that what is this on page factors, do not worry in this article I will try my best to explain what are all important on page factors are there in search engine optimization.
Content
First thing in search engine ranking is genuine content that means your website should not contain copied content. We can say content is king in present market situation and it has lot of demand in market and even you can link other relative web pages.
After content we need think about Meta title, description, and keywords. Title tags are second most important factor. For example if you running website development Company and you wants to rank for web design company consider this is your primary keyword then let's take a look at how you title tag should look like.
Ex: Primary Keyword, Secondary Keywords, Brand Name
In Meta description once primary keyword should come for example,
EX: Leading Primary Keyword, secondary keyword in xx place.
URL Structure
After Meta information of the web page we should think about the URL structure of that particular page for example your primary keyword is web design then check out below example according to Google how we should create URL's.
Example: www.yourcompanyname.com/web-design
OR
www.yourcompanyname.com/web_design
SEO Best Practice
• Content of page
• Title tag
• URL
• Image alt text